Description
HOT NICHE ALERT
I uploaded a few of these tarot journals to KDP to make sure the interiors and covers were good to go for you.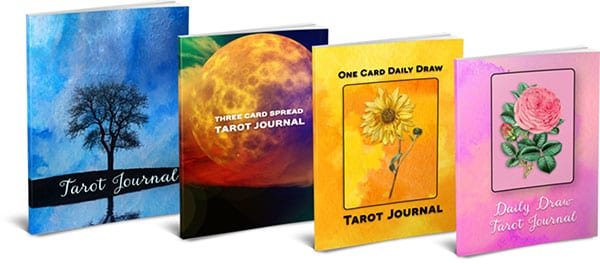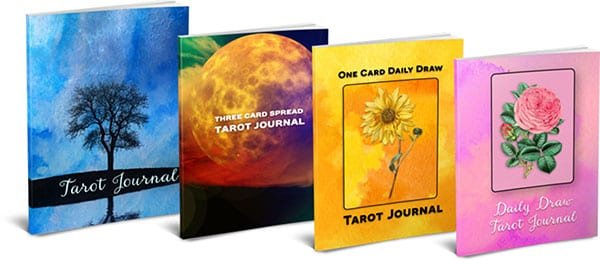 When I checked my reports the next day, one of the journals had already sold! Woohoo!
With this PLR package you will be able to create your Journals quickly and easily to upload to KDP or to sell on your website or in your Etsy Shop.
Are you more comfortable working with PNG's, PDF's or Powerpoint Files to create your journals?
Well, in this package you get all three formats to choose from!
Here's a breakdown of what you get:
183 Page Daily Draw Tarot Journal in PowerPoint, PNG and PDF format

199 Page Three Card Spread Tarot Journal in PowerPoint, PNG and PDF format

Covers in PSD and PowerPoint Format (Powerpoint is set up with guides to help you create your covers easily)

Choose from Color or Grayscale options

2 sizes for each journal – 6″x9″ and 8.5″x11

A mix of images you can use in this journal or any other journal you produce.
Need eCovers to advertise your journals on your website, Etsy shop or social media properties? Got you covered there too (pun intended).
Check out the video to see what's included in this package
Create Journals to Publish on Amazon or create printable files to sell in your Etsy shop.
Use the completed PDF files as lead magnets to get folks to sign up to your list. You're only limited by your imagination!
You get full commercial use of this PLR Package so you can edit and brand the journals for yourself or your clients!
PLR Rights:
You CAN create UNLIMITED journals for your own personal use.
You CAN create UNLIMITED journals to sell as printable PDF files in your Etsy store, on your own website or sell the COMPLETED coloring books/journals as hard copies on Amazon or anywhere else you like.
You CAN create COMPLETED journals for your clients
You CAN give your COMPLETED journals away (as gifts, as lead magnets, as a bonus, etc.)
You CAN use the images in an unlimited number of coloring book/journals as you like without attribution.
The only restrictions are that you CANNOT: 1) give away or sell the PLR to this package 2) give away or sell the source files (templates or graphics).
Refund Policy: Due to the nature of PLR Content, no refunds are offered.