Description
Effortlessly Create Stunning Printable Pregnancy Planners
An all-in-one solution for low content publishers looking to create beautiful and sellable planners without the hassle of time constraints or design skills.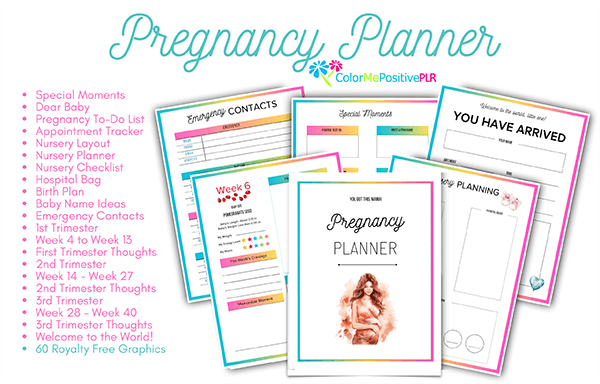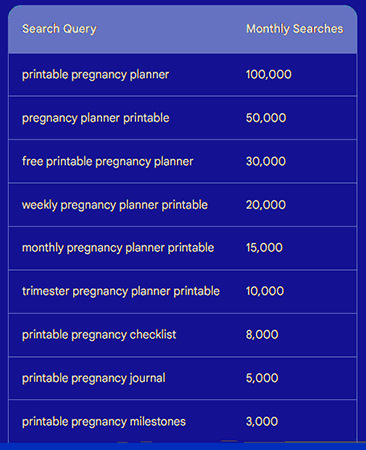 Designed with convenience in mind, this ready-to-use printable planner is the perfect tool to help you tap into the lucrative market of expectant moms.
From tracking milestones to planning appointments, this Pregnancy Planner has it all, allowing you to focus on what you do best – creating and selling amazing products.
<<<<< Pregnancy planners are super popular! These searches are all related in one aspect or another to printable pregnancy planners. The approximate monthly searches for each query are based on data from Google Trends.
This gorgeous Printable Pregnancy Planner is a comprehensive digital product designed to assist low content publishers in creating and selling planners effortlessly.
This package includes Canva Templates as well as a Powerpoint File if you prefer working in Powerpoint. To enhance the visual appeal of the planners, the product also includes 60 graphics, allowing you to add eye-catching elements and create a visually stunning final product.
These ready-to-use layouts and beautiful graphics will have you creating professional-looking planners in no time at all.

Get ready to say goodbye to stress and hello to convenience! With the Pregnancy Planner, you can create beautiful, high-quality planners without the usual time-consuming tasks or the need for design skills.
Here's what's inside the 59 page printable pregnancy planner:
Special Moments

Dear Baby

Pregnancy To-Do List

Appointment Tracker

Nursery Layout

Nursery Planner

Nursery Checklist

Hospital Bag

Birth Plan

Baby Name Ideas

Emergency Contacts

1st Trimester

Week 4 to Week 13

First Trimester Thoughts

2nd Trimester

Week 14 – Week 27

2nd Trimester Thoughts

3rd Trimester

Week 28 – Week 40

3rd Trimester Thoughts

Welcome to the World!

60 High Quality Graphics
Simply download the ready-to-use templates that have been specifically designed to cater to low content publishers like you. No more wasting hours trying to figure out layouts or struggling with complicated design software.
Customize the planner as per your unique style and brand. Add your own personal touches, such as your logo, colors, or even quirky illustrations. You'll love how easy it is to make it truly yours.
Once you're satisfied with your masterpiece, it's time to put it out into the world. You can sell your newly created Pregnancy Planner in your online shop or even offer it as a freebie to attract more customers.
So, why waste time and energy when you can have all the benefits of a professionally designed printable pregnancy planner at your fingertips? Get the Pregnancy Planner today and say hello to stress-free planner creation and hello to happy customers!
BONUS! 12 Baby Shower Games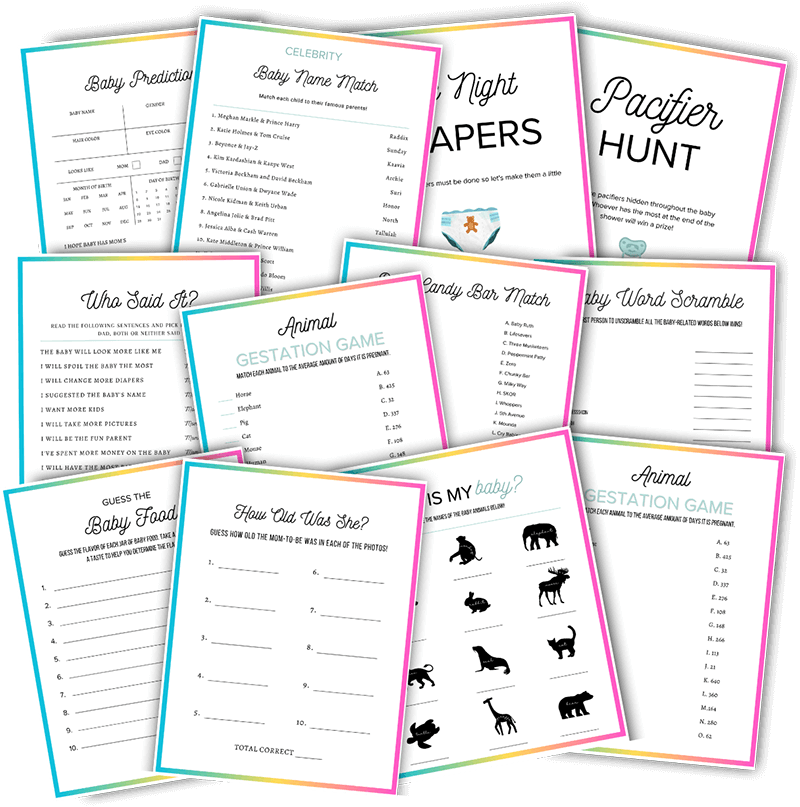 Don't miss out on the opportunity to effortlessly create stunning Printable Pregnancy Planners that will delight your customers and boost your sales! Make the smart choice, and give yourself the tools you need to succeed. Order the Pregnancy Planner today, and watch your business grow!
What Rights Come With This Package?
You CAN create UNLIMITED products for your own personal use.
You CAN create UNLIMITED products to sell as printable PDF files in your Etsy store, on your own website or sell your COMPLETED products as hard copies on Amazon or anywhere else you like.
You CAN give your COMPLETED products away (as gifts, as lead magnets, as a bonus, etc.)
You CAN add your COMPLETED products to a NON PLR Membership site.
You CAN use the images in an unlimited number of products as you like without attribution.
What Can't I Do With This Package?
The only restrictions are that you CANNOT: 1) give away or sell the PLR to this package 2) give away or sell the images as is. They must be incorporated into a product you create.
Refund Policy
Due to the nature of PLR Content, no refunds are offered. The product is clearly represented on the sales page so buyers are aware of exactly what they will be receiving before purchasing.